Home
›
Repetier-Firmware
›
Motor Control
X2 motor doesn't move in IDEX
I just completed building IDEX printer and stumbled on the following issue with X2 motor:
Homing with G28 works as it should - X1 (left) printhead moves to the left to X-Min position, X2 (right) printhead moves to the right to X-Max position. X1 moves with G0/G1 commands and I have already printed several things using single printhead without issues.
X2, however, does not move after homing. I am trying to make it move by switching to Tool 1 (T1) and executing G0/G1 with different X values. When I execute T1, X1 printhead moves to home position, which is correct. In addition to running manual commands I tried to run GCODE that should print with X2 only, but it still did not move. I suspect I have some kind of issue with my configuration settings and hoping someone can pinpoint me to the culprit.
The image below shows the dimensions of my printer. It is followed by relevant configuration settings. I am using the latest 1.x development version of the firmware.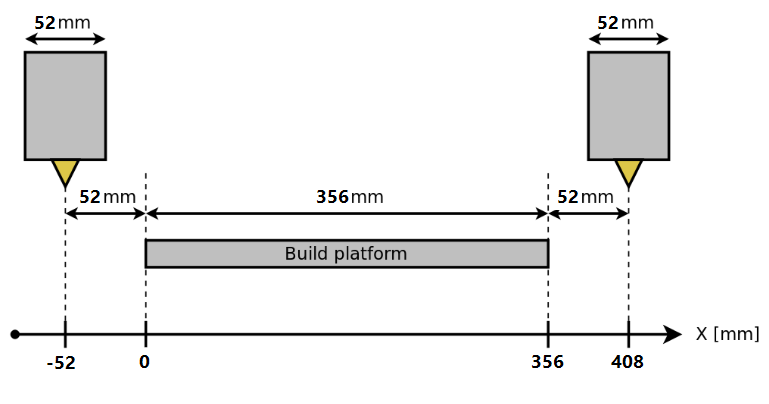 #define HOMING_ORDER HOME_ORDER_ZXY
#define INVERT_X_DIR 1
#define INVERT_X2_DIR 0
#define X_HOME_DIR -1

#define X_MIN_POS -52
#define X_MAX_LENGTH 408
#define EXT0_X_OFFSET 0
#define EXT1_X_OFFSET 52

#define DUAL_X_AXIS 1
#define DUAL_X_RESOLUTION 0
#define LAZY_DUAL_X_AXIS 0
#define DUAL_X_AXIS_MODE 1
-----
Thanks