Home
›
Repetier-Host
›
Slic3r
Mysterious Temperature Settings, Configuration Wizard and Extruder Conflict
Hi all,
I am running into an issue with the GCode that is generated by Repetier and Slic3r that I can't seem to figure out. I have scoured every configuration setting I can find, yet can not seem to figure out how to ensure my Extruder/Filament configuration applies instead of the information entered in the Configuration Wizard.
Here's the resulting GCode with the sections I'm concerned with highlighted: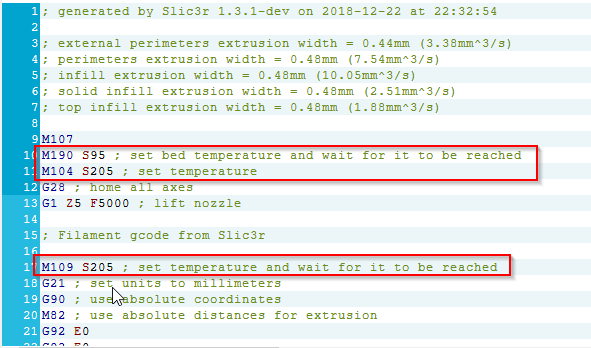 The M190, M104, and M109 settings appear to be generated via information entered into the Slic3r Configuration Wizard. Yet, the settings I've added to the Filament configuration are not appearing in the resulting GCode.
These settings appear to be coming from the Slic3r_Settings.ini file: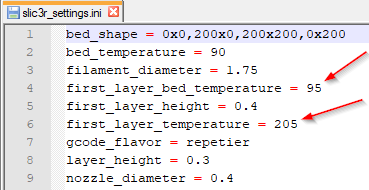 Modifying this Slic3r_Settings.ini file seems to just result in the changes getting replaced (even when I try closing all Repetier/Slic3r software before making the modifications).
I also don't know where in the UI to edit the Slic3r_Settings.ini configuration, naturally editing through the Wizard itself seems to work but I'd expect these settings to be exposed outside of the Wizard. Additionally, I would expect the Filament/Extruder settings to override or supplement this at some point, but that doesn't appear to be happening either.
Here's the configuration in Repetier-Host prior to hitting the Slic3r Slice button: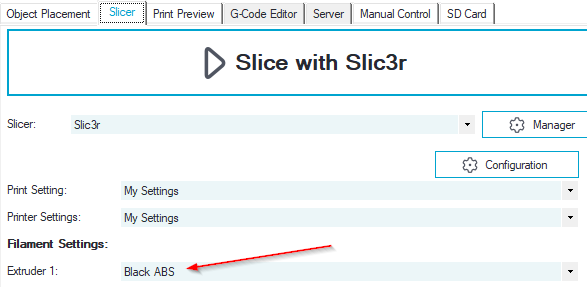 Here is the configuration for the Black ABS profile: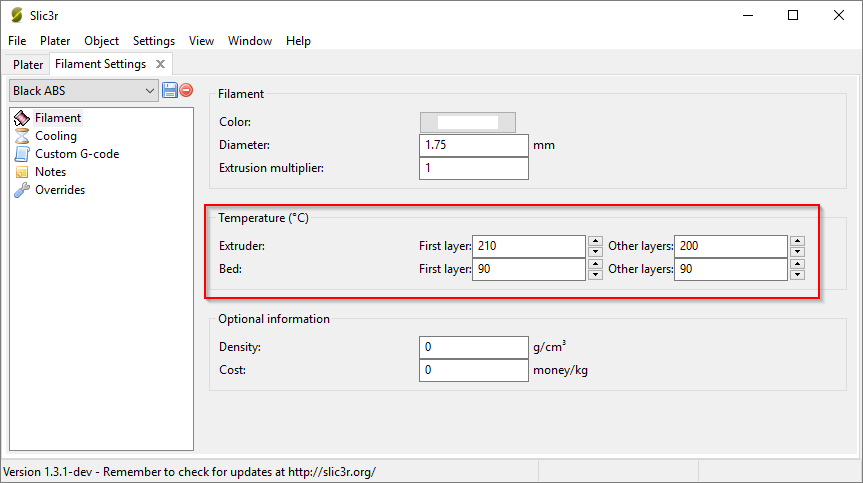 The temperature settings configured here do not show up in the resulting GCode, nor are they honored by the printer. The entire job will print based on the temperature entered in the Configuration Wizard/Slic3r_Settings.ini file instead.
I can't seem to figure out what I'm doing wrong here. Ultimately, my goal is to create multiple configuration files for different filament requirements.
Thanks for any insight that anyone can provide.
Thanks!