Home
›
Repetier-Server
›
Questions & Answers
Repetier Monitor - Trouble connecting Server Externally
Hi Repetier,
not sure where to put repetier monitor questions. Really like that tool most importantly the auto upload feature!!
I can connect locally with local IP with no Problem. However I would love to connect it externally aswell.
I have an nginx proxy currently that works fine with the repetier server webinterface. However if I try to use that with repetier monitor it ends up creating the Server / detecting the name and Hash, but after lgin (user or token does not matter) it stays "not connected"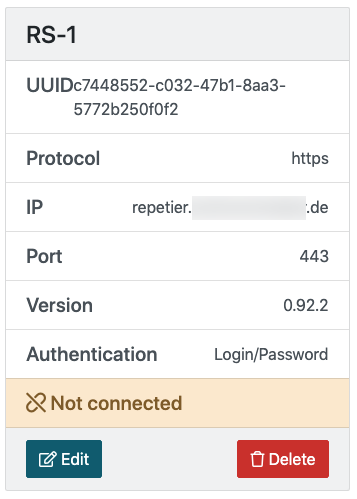 here is my nginx config:
server {
    listen 443;
    server_name repetier.<mytld>.de;

    client_max_body_size 10G;
    
    ssl_certificate     /etc/letsencrypt/live/repetier.<mytld>.de/fullchain.pem;
    ssl_certificate_key /etc/letsencrypt/live/repetier.<mytld>.de/privkey.pem;

    ssl on;
    ssl_session_cache  builtin:1000  shared:SSL:10m;
    ssl_protocols  TLSv1 TLSv1.1 TLSv1.2;
    ssl_ciphers HIGH:!aNULL:!eNULL:!EXPORT:!CAMELLIA:!DES:!MD5:!PSK:!RC4;
    ssl_prefer_server_ciphers on;

    access_log            /var/log/nginx/repetier.<mytld>.de.access.log;

    location / {
                    proxy_pass http://10.10.10.56:3344;
    }
    location /socket/ {
        proxy_pass http://10.10.10.56:3344/socket/;
        proxy_http_version 1.1;
        proxy_set_header Upgrade $http_upgrade;
        proxy_set_header Connection "upgrade";
        proxy_read_timeout 86400;
    }
     printer frontend does not require password, so we forbid it from external
    location /mod/front/ {
        deny all;
    }
    location /modules/front2/ {
        deny all;
    }
}

at first I thought it might be related to the to deny all for /mod/front/ and /modules/front2 but removing them did not change the behaviour. Any ideas? Grüße