Home
›
Repetier-Server
›
Questions & Answers
Only one printer can connect at a time?
I'm pretty new, so hopefully I've missed a setting somewhere. I have two MP Mini's connected a RPi 3B+ running the SD image of Repetier Server 0.90.7. USB connected through a powered hub and the RPi is on a separate 2.5A power supply.
Finding good settings for the MP Mini's wasn't exactly easy, but I found settings that will allow each printer to connect. My issue is that I can only have one printer connected at a given time. If I have printer
#1
active, printer
#2
is disconnected and doesn't even try to connect. If I deactivate printer
#1
, printer
#2
connects right away, but
#1
won't reconnect until I deactivate
#2
.
There are no errors in the server.log. The Port closed lines are when I manually deactivate the printers.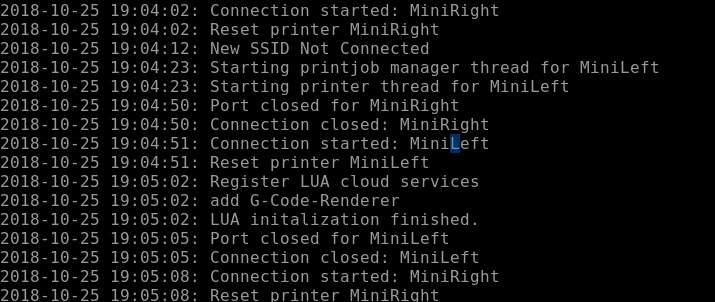 My apologies if I missed something in the docs or on the forum. I've only been working with this for a couple days, but I don't find any mention of this issue.