Home
›
Repetier-Informer App
›
Questions & Answers
Just starting out and trying to get things working
I have just purchased a 3d printer kit. The anet A8.
Before it arrives I am looking at trying to get to grips with the software.
It recommends the Repetier sofware.
I also have one of these 3d stepper motor drivers that I have been running with a gcode reader and the stepper motors run fine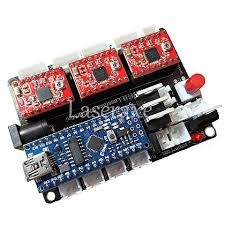 Is it possible to just run this with the Repetier software, i.e. just press the manual buttons and have the motors move.
It looks as if the software recognises the board and gives me the option to run the manual buttons but when I press one all I get is
'3 commands waiting' (or however many time I press the buttons with the mouse).
in the blue box above.
Does anyone have any idea what is wrong and can I move stepper motors this way?