Home
›
Repetier-Host
›
Windows
Bed height map tool allways measures wrong the first probe
Hi all!
Running a Rostock Max with the Repetier FW 0.92.9. Free RAM is 1102.
I have squared up all the towers, performed all the measurements and calibrations to get a flat as possible bed mechanically.
I'm now running the Height Map tool and I always get a wrong measurement on the first probe x-80 y-80.
A single G30 Probe works properly giving a correct Z probe.
I can see the probe go to position and then change height just before it starts to probe. The next probes are all the same height, unlike the first.
What is causing this?
Thanks and regards,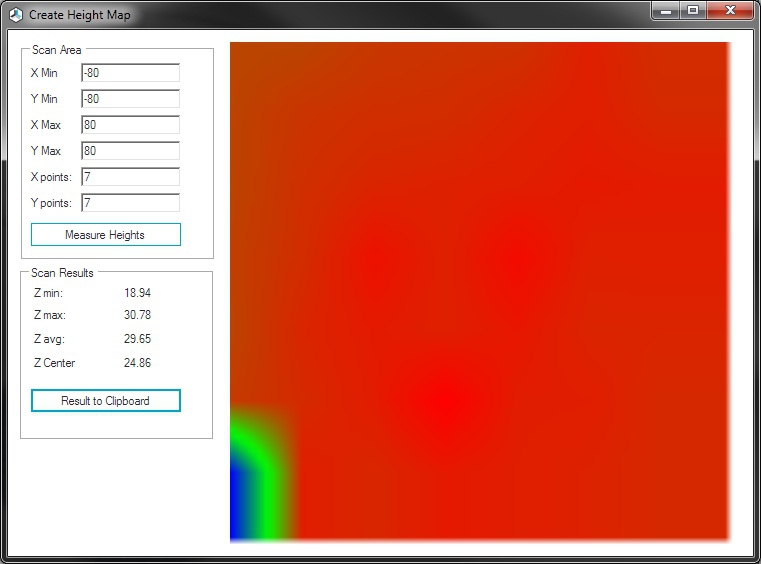 | | | | | | | | |
| --- | --- | --- | --- | --- | --- | --- | --- |
| X: | -80 | -53.33 | -26.67 | 0 | 26.67 | 53.33 | 80 |
| y:80.00 | -0.52 | -0.46 | -0.17 | -0.08 | -0.04 | 0.39 | 0.06 |
| y:53.33 | -0.44 | -0.08 | 0.04 | 0.09 | 0.30 | 0.43 | 0.18 |
| y:26.67 | -0.44 | 0.02 | 0.28 | 0.36 | 0.43 | 0.54 | 0.48 |
| y:0.00 | -0.36 | 0.08 | 0.74 | 0.37 | 0.89 | 0.38 | 0.41 |
| y:-26.67 | -0.44 | 0.26 | 0.52 | 0.39 | 0.61 | 0.29 | 0.28 |
| y:-53.33 | -0.26 | 0.16 | 0.47 | 1.13 | 0.46 | 0.44 | 0.19 |
| y:-80.00 | -10.71 | 0.44 | 0.23 | 0.54 | 0.43 | 0.33 | 0.19 |